About Tim Perkis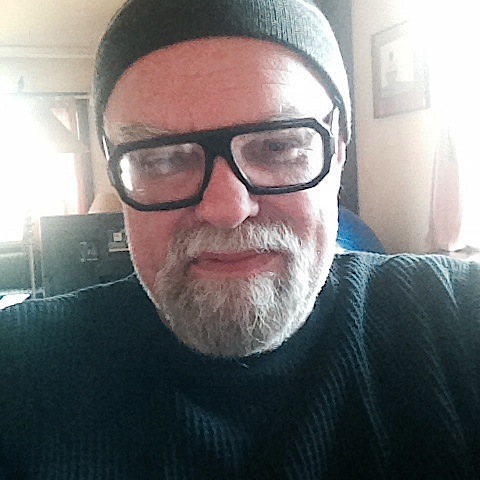 BIOGRAPHY
Tim Perkis has been working in the medium of live electronic and computer sound for many years, performing, exhibiting installation works and recording in North America,Europe and Japan. His work has largely been concerned with exploring the emergence of life-like properties in complex systems of interaction.
In addition, he is a well known performer in the world of improvised music, having performed on his electronic improvisation instruments with hundreds of artists and groups, including Chris Brown, John Butcher, Eugene Chadbourne, Fred Frith, Gianni Gebbia, Frank Gratkowski, Luc Houtkamp, Yoshi Ichiraku, Matt Ingalls, Joelle Leandre, Gino Robair, ROVA saxophone quartet, Elliott Sharp, Leo Wadada Smith and John Zorn. Ongoing groups he has founded or played in include the League of Automatic Music Composers and the Hub -- pioneering live computer network bands -- and Rotodoti, the Natto Quartet, Fuzzybunny, All Tomorrow's Zombies and Wobbly/Perkis/Antimatter.
He has taught at the California Institute of the Arts (CalArts) and the California College of the Arts (CCA); has been composer-in-residence at Mills College in Oakland California, artist-in-residence at Xerox Corporation's Palo Alto Research Center, and designed musical tools and toys at Paul Allen's legendary thinktank, Interval Research. In 2013 he was a resident fellow at the Mediterranean Institute of Advanced Research (IMéRA) of the University of Aix-Marseille in France.
His checkered career as a researcher and engineer has brought him a variety of interesting projects: creating data sonification displays for research physicists and biologists in France; designing museum displays for science and music museums in San Francisco, Toronto and Seattle; creating artificial-intelligence based auction tools for business; working on mobile phone based support systems for the blind; consulting on multimedia art presentation networks for the SF Art Commission and SF Airport; writing software embedded in toys and other consumer products; and creating new tools for sound and video production, research and analysis.
Recordings of his work are available on several labels: Artifact,Tzadik, New World, Metalanguage, Rastascan, Limited Sedition, Kajira,482, Lucky Garage and Praemedia (USA); EMANEM, Leo(UK); Sonore and Meniscus(France); Curva Minore and Snowdonia(Italy); Pogriff(Canada); ALKU(Spain); XOR(Netherlands); Creative Sources(Portugal).
He is also producer and director of a feature-length documentary on musicians and sound artists in the San Francisco Bay area called NOISY PEOPLE (2007), and the ongoing audio podcast NOISY PEOPLE (2015- ).
Click here for a fairly exhaustive (and exhausting!) list of performances.
STATEMENT
I like to consider human-machine interaction as a new form of social interaction. What's interesting to me about computers is their ability to serve as a framework for embodying systems offering complexity and surprise. Unpredictability is what makes social life so interesting, it is what makes art so interesting, and it's what can make computers, as partners in art making, interesting. I don't use computers to simply carry out ideas I may have: I'd rather work in situations that force me to respond to surprises that are dealt to me by systems whose complexity and unpredictability are so high that their behavior can not be known in advance. All of my computer based art work has been concerned with creating social (or synthetic social) situations, which have enough complexity to behave like real life: in fact, to be real life of some new kind. The system in question in almost all of these pieces consists of human beings and machines in cycles of mutual influence and response.
For more a more detailed discussion of these issues, see my article Bringing Digital Music to Life.
NAME DROPPING
Some musicians I've performed and/or recorded with:
bruce ackley • steve adams • liz albee • vijay anderson • paolo angeli • antimatter • k.atchley • ben azarm • serge baghdassarians • boris baltschun • jen baker • aaron bennett • john bischoff • frederic blondy • alison blunt • jorge boehringer • myles boisen • bob boster • gail brand • roger brooks • chris brown • jerome breyerton • kyle bruckmann • tony buck • wendy burch • john butcher • ted byrnes • murray campbell • doug carroll • joe catalano • eugene chadbourne • clay chaplin • tania chen • sharon cheslow • mark chung • dan clucas • abbie conant • kevin corcoran • john cowen • george cremaschi • emmanuel cremer • alvin curran • tim daisy • palle dahlstedt • andrew raffo dewar • jorrit dijkstra • lisa dillan • thomas dimuzio • tom djll • mark dresser • harris eisenstadt • lisle ellis • thea farhadian • james fei • john finkbinder • tara flandreau • miguel frasconi • fred frith • wolfgang fuchs • cor fuhler • gianni gebbia • philip gelb • lelio gianetto • jordan glenn • barbara golden • vinny golia • gunda gottschalk • lance grabmiller • frank gratkowski • george graewe • phillip greenlief • scot gresham-lancaster • morgan guberman • john hanes • anton hatwich • ron heglin • ed hermann • shoko hikage • motoko honda • bill horvitz • luc houtkamp • carl ludwig hübsch • yoshimitsu ichiraku • matt ingalls • christof irmer • mark izu • ove johansson • darren johnston • max johnson • aurora josephson • joan jeanrenaud • henry kaiser • wyatt keusch • carla kihlstedt • ronit kirchman • hans koch • klaus kürvers • annette krebs • henry kuntz • anne la berge • claudia la rocco • adam lane • dominic lash • joelle leandre • thomas lehn • greg lenczycki • susanna lindeborg • jacob lindsay • hugh livingston • scott looney • dina maccabee • marianne macdonald • marcello maira • toshi makihara • miya masaoka • kaffe matthews • magda mayas • randy mckean • myra melford • ava mendoza • lisa mezzacappa • mark e. miller • gianni mimmo • roscoe mitchell • jean-marc montera • david myers • per anders nilsson • le quan ninh • kanoko nishi • kjell nordsson • tom nunn • larry ochs • suki o'kane • ed osborn • yasuhiro otani • han-earl park • crystal pascucci • mike patten • jen clare paulson • phillip perkins • garth powell • gert-jan prins • santiago quintans • jon raskin • brian reinbolt • gino robair • donald robinson • scott rosenberg • ROVA saxophone quartet • joe sabella • kattt sammon • ignaz schick • sara schoenbeck • sue schlotte • john schott • domenico sciajno • charles sharp • elliott sharp • aram shelton • john shiurba • dave slusser • damon smith • ladonna smith • wadada leo smith • matthew sperry • spirit • moe! staino • wes steed • jason stein • g e stinson • ijeoma thomas • oluyemi thomas • toyoji tomita • sebi tramontana • mark trayle • ken ueno • hiromi vardy • fay victor • biggi vinkeloe • lusia vitkova • weasel walter • scott walton • zachary watkins • stephen wight • jennifer wilsey • william winant • georg wissel • wobbly • francis wong • theresa wong • WRACK • cory wright • xu fen xia • pamela z • michael zelner • john zorn